Reminder: The next LAN's is going to be either the weekend before the start of the fall semester or the first weekend of the fall semester.
The Entry Fee is food for everyone else to enjoy (e.g. a chips, candy, brownies, etc.).
NO PAY, NO PLAY!
[YOU MUST PAY THE ENTRY FEE]
News:
06/25/2006 - Kevin:
Summer is here and you know what that means! Time to plan the next LAN!!! What we need to know now is when you're available. We're shooting for the weekend before the fall semester or the first weekend of the semester, either friday, saturday or sunday (August 25,26,27 or September 1,2,3). Also, as always, let us know what games you want to play. To vote for a date and/or a game, just e-mail us at
thelanstation@gmail.com
. Keep coming back for update info! We should have the pictures from the previous LAN up sooner or later.
03/10/2006 - Jonathan:
THE LAN IS IN 2 WEEKS. This means:
The official game list has been updated. Notice the addition of Unreal Tournament '99 and Team Fortress (something a few of you will be happy about)! Go over the game section to see the game list and the vote results.
The LAN is the Friday after spring break, DON'T FORGET!
The LAN Entry fee is food for everyone to share (e.g. chips, candy, brownies, meatballs :)
If you need direction to the LAN location please e-mail thelanstation@gmail.com A.S.A.P.
Please review the LAN Rules as they will be enforced.
Make sure you bring all the necessary items for the LAN. Head over to the "Items to Bring" section if you need a refresher.
BE PREPARED FOR AN AWESOME LAN!
03/07/2006 - Jonathan:
The Unconfirmed game list was decided by our awesome GB, Mr. Vanderlinden. Go over the game section to see the list and the vote results. If you are unhappy with the game selection e-mail
thelanstation@gmail.com
and tell us why you are pissed.
02/25/2006 - Jonathan:
Don't mess with the best! Otherwise, we'll have to penalize you!
02/04/2006 - Jonathan:
WOW! Christopher Vanderlinden has volunteered to be the GB AND the NB! Awesome, we love you Chris oh so much!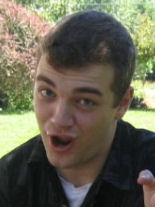 Chris, with the lovable face!
Don't forget to vote for you games. Might I add that you can vote MULTIPLE-TIMES if you feel like it! Those extra votes will count! I repeat, the votes you put in later will count!
02/04/2006 - Jonathan:
The LAN date has been set to this coming 26th of March 2006. If this date does not fit your schedule,
contact us
and let us know. If enough people tell us that the date is not good for them, the LAN will be moved. As of now, because there are no FB for the upcoming LAN, THE ENTRY FEE IS FOOD (i.e. chips, cookies, candy, etc.). The more you bring, the merrier, the better the LAN, the more respect you receive.
Also, PLEASE VOTE FOR GAMES. OTHERWISE, the team will end up picking, possibly in your disfavor.
01/18/2006 - Jonathan:
LAN LAN LAN! Yes my friends, it's time for a new LAN party. The date of the party has yet to be determined, but if you want to voice your opinion on the date do so
here
.
As with every LAN, the format of this upcoming one will change once again. In a nutshell, the changes are:
The whole Bitch isn't working out so well and take up a lot of time to properly fufill. Therefore, until further notice, the Bitches are out.
Money entry fees do not work out so well either, with the last entry fee being steeper due to the lack of participants. Money entry fees are out! Food entry fees always seemed to fair well and thus will stay unless everyone agrees not to eat anything ;)
In the last few LAN too many games were under consideration (= long install times for people). Therefore, we played a little bit of every game without giving the time for some to get into the groove of the game. I had a few complaints about this, and to remedy the problem the next LAN will have at most 3 games to be installed and to play with.
It sometimes takes more than 1 hour to install a game on one machine because something about the machine is wrong. Sure, the unexpected can happen, but taking over 1 hour to install a game on a machine is plain too long. If something bluntly obvious about your computer is wrong, either take your own time to install the game prior to the LAN or don't expect coming to the LAN and making everyone install it. It take away my play time and everyone else's who's trying to figure out how in the world to install the game on your machine.
If you have any suggestions or comments, feel free to send then to this address. I will in time update the website with information about the upcoming LAN. Until then, be nice boys and girls!
11/08/2005 - Jonathan: I finally got to uploading the pictures from all our LAN parties combined. Check it out in the Gallery Section.
10/19/2005 - Jonathan: I just finished speaking with the GB, and he finally picked the games we are definitely going to play, based on your game votes. Thank you everyone who voted, and thank you, GB, for taking the time to get all the games together. You can see the game results in the "Game" section.
10/15/2005 - Jonathan:
Okay, so I just talked with the FB and the total expenses for this LAN will be $40. This means that the more people we are the cheaper it will be for each person. Need an example?
If there's only me, then I pay $40 to the FB... ouch.
If there are 2 people at the LAN, that means each person pays $20.
If there are 200 people at the LAN, that means each person pays 20 cents
If there are 215,589 people at the LAN, that means each person pays $1.85538223193205590266664811e-4. Yeah, that means you will have to stop at the bank and get those millis (as opposed to cents) for the LAN.
With that oh so nice $40, the FB will bring manage to bring:
30 Tacos from Mighty Tacos.
Candy, because we are oh close close to Halloween.
Chips: MMM, chips!
I will provide Soft-drink FREE, compliments of the house. Of course, I'm also giving my house, furniture, and electricity for free, but this time I'm extra nice and also pitch in the drinks. Ahh, we love Jonathan!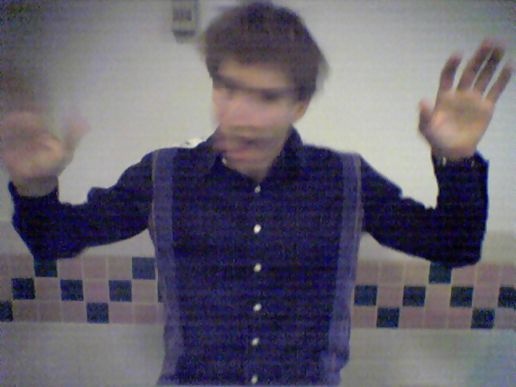 (Figure 69. We love Jonathan)
10/12/2005 - Jonathan: Yes yes yes, I am a little early in my week before post. But since now it is on the website I'm posting week before notices a little eariler. So, let's go down the list:

MAKE SURE TO READ AND UNDERSTAND THE RULES OF THE LAN. Although I don't make people sign wavers, I retain the right to enforce the LAN party rules to their full extend.

1) The LAN is NEXT FRIDAY. I repeat: "THE LAN IS NEXT FRIDAY!" No, it's not this friday or two fridays from now. Yeah, that's right, the LAN is next friday.
2) Some people have it set in their minds that the they cannot attend the LAN if they can't make it the first 3-4 hours. That is BOGUS! There's nothing wrong with going to the LAN after your work, even when your work finishes after 10:00. Expecially that now my LAN is going to be in the garage, you can come in late and not disturb anyone. Granted, coming late makes you miss out on some of the action, but not coming makes you miss ALL the action. Your pick
3) Unless you haven't been paying attention, the next LAN is going to be in my garage, rain or shine, +80 to -40 degrees Celcius. Dress accordingly. Although, I'm pretty sure that the garage will get pretty warm once all the machines are humming and the humans are yelling, but still; don't take the risk of getting cold. Dress appropriatly.
4) Since I'm not ready to openly give out my house address, those needing directions to the LAN (which takes place at my house) need to request them by contacting the PB (see Staff section). Directions will be given on a need be basis. Yes, you could always call the night of the LAN and be like: "Jonathan, help me, I'm lost in a town called Toronto and don't know where to go." Yeah, my reply to that might not be appeasing.
5) Please scan your computer with the latest virus definitions before coming to the LAN. It's a question of common courtesy to everyone and if we all get virus(es)... guess what: It might be a while before the next LAN occurs.
6) Make sure that you bring all the required items in the Items to Bring section. Although I MIGHT have spares, don't count on it!

10/09/2005 - Jonathan:
I was playing Counter-Strike and got the following screen shot. My question is... how the heck to they get up there (click image to enlarge)?
10/07/2005 - Jonathan:
I have good good news to make. Jimmy was so kind as volunteer to be our GB! Hurray! He's got quite an ambitious program in terms of possible games that we could play, and concordantly I added a games section so that you can view the current games under consideration and vote on games you would like to play. The voting system for now isn't very sophisticated, but in time it will be da bomb! If you want, you can personally communicate with the GB by going in the staff section. Go to the Games section to vote and view current votes on games, as well as get links to the games under consideration.
This means, if you are unhappy about the games we play, there's only one person to blame... YOU! HARHARHAR!
P.S. Kevin will probably take all my hard work and smash it to bits with his PHP and CSS guns! Well...
9/26/2005 - Kevin: Progress is coming along. I redid the menu in CSS to allow for easier editing in the future. So far it's only on this page, but I'll get my lazy self to trick it all out in PHP to make things better. A real image gallery is coming soon (more like eventually). Keep coming back for more info regularly!
9/23/2005 - Jonathan:
Yes my friends, I have even better news. Thanks to this awesome book Jimmy got me (LAN Party : Hosting the Ultimate Frag Fest (ExtremeTech)), I was able to map out my garage for the next LAN. Thank you Jimmy, we love you!
+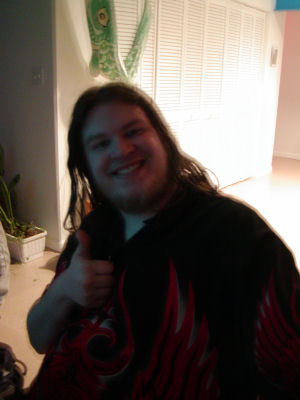 = LOVE
9/23/2005 - Jonathan: Ohh, wow. Finally, the website is up and going. Although more work is on the way, at least the foundations are in place. In time this page will be the chiz-nizzles...
9/19/2005 - Jonathan:
The next LAN will be the 21st of October 2005. It will start at 17:00 and go until we can't stand each other (last time, that was 5:00am the next day). There are a few things that need to be in order for this upcoming LAN:
1)
The next LAN will be in Jonathan's garage. What!? Huh!? Garage!? Yeah, that's right, Jonathan's garage. Thanks to Tom this maneuver is possible. Thank you Tom, we love you!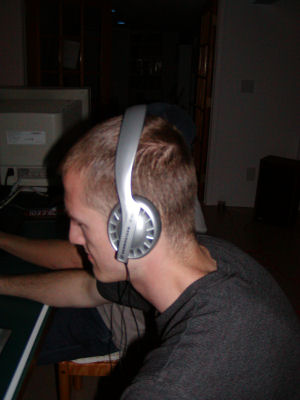 (Figure 1. We love TOM!)
But why such a drastic move? What can explain the garage maneuver? Well, it would first give us extra room to maneuver, will be much much much easier on computer moving and installation, will be easier to clean after the party, and will be different. A major thing that I try to do at each LAN is try something new. If it works, it stays. If it doesn't, like the tournaments, it is quickly dropped. So, I'll give my garage a swing and see where things go.
2) The LAN will go back to an entry fee. Dan White already volunteered to be the FB, and this time he has some pretty cool ideas (should be very very interesting). Feel free to send him feedback.
3) A list of games has yet to be selected. I am COMPLETELY open to new game ideas. Feel free to give us feedback on any games you would love to play.
4) There is a maximum of 16 people to this LAN. You are more than welcome to invite people to the LAN as long as I am aware of this at least a day before the actual LAN. I'm only doing this so that I don't have to turn down people who haulled their machines all the way to my house. However, if we can get another switch and more tables, I'm sure we could fit more (this could be interesting)...
5) A set of links will be put up once I get some actual spare time to make this webpage much cooler. Until then, it will look like it looks now.

That's it for news now. Keep tabs on this site as more will unveil.
9/19/2005 - Jonathan: The website development is now underway. I modified the colors so that it looks snazzy and I created some Flash for those who LOVE flash.

Jonathan -- "I just figured out how this CSS stuff works!"
8/26/2005 - Kevin: I finally remembered to work on this place! The website has some style sheets now, even though they're pretty simple so far, a better design will come eventually.. For now, I've uploaded the pics of three past LANs. The most recent one (the one I missed) isn't there because I haven't received any pics from that one. A new semester is about to begin, so that means its time for more LANs! Info on future LANs will be here.
Content: